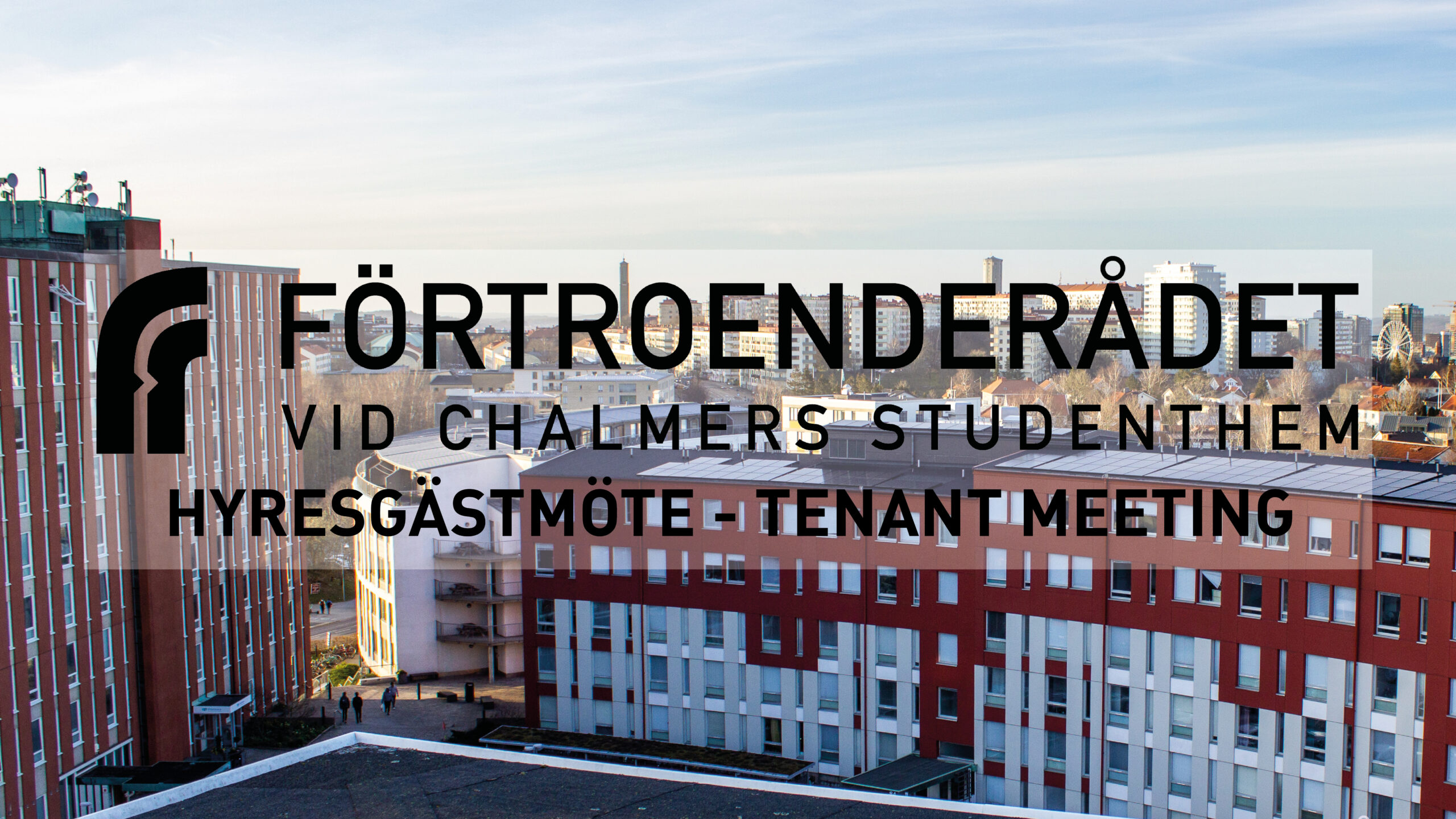 **ENG BELOW**
Förtroenderådet bjuder nu in till hyresgästmöte den 31 oktober 2020 kl 12:00.
Vi bjuder de som närvarar vid mötet på lagom mängd bakismat (pizza) och återställare efter mötet.
Vid hyresgästmötet kommer frågor om ansvarsfrihet för förra årets styrelse, val av ledamöter för 2021 att tas upp, vi kommer även fastställa Förtroenderådets medlemsavgift för nästa år. Givetvis kommer det även finnas möjlighet för att ta upp motioner eller egna frågor. (instruktioner för hur du väcker en motion finns i kallelsen som skickades på mail)
Självfallet kommer det också gå att vara med på mötet digitalt, för att få en bra bild av hur många som vill vara med på länk eller vara med fysiskt ser vi gärna att du svarar på det här:
https://forms.gle/z4RcE93sumdUDsYt6
Efter mötet håller vi pub där vi även bjuder på pizza till de som varit med på mötet.
Var: FRitids på Gibraltargatan 78 (till höger om trappan upp till receptionen)
När: lördag 31 oktober kl 12:00
Facebook event: https://fb.me/e/1A7zwb78Y
**ENG**
Förtroenderådet now invites you to the tenant's spring meeting on October 31, 2020 at 12:00.
At the tenants' meeting, questions about discharge for last year's board, as well as the election of representatives for 2021, and the membership fee for 2021, will be raised. Of course, there will also be the opportunity to take up your own questions or raise motions (instructions on how to raise a motion are found in the email that has been sent out regarding the meeting).
We will of course also provide a Zoom link for those who cannot attend the meeting in person. We'd also like you to fill in if you will attend the meeting in person or by zoom so we can get an idea of how many will attend. Please register your intent here (you are of course free to change your mind at a later date):
https://forms.gle/z4RcE93sumdUDsYt6
After the meeting we will offer free food and drinks to the tenants present at the meeting.
Where: FRitids on Gibraltargatan 78 (to the right of the stairs up to the reception)
When: Saturday, October 31 at 12:00.
Facebook event: https://fb.me/e/1A7zwb78Y